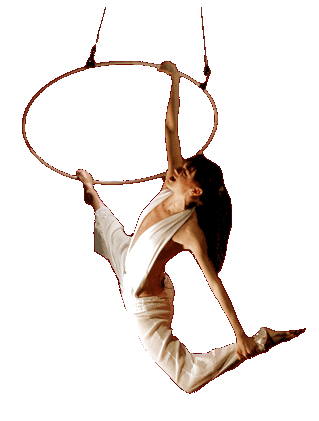 Experience
An Entertainment Extravaganza
World class acrobats, singers, comedians, musicians and the eccentric wait
staff deliver a mind-boggling show that moves between dreamy poetry and breakneck pandemonium.
Meticulously choreographed, the program still leaves ample room for improvisation. An assortment of characters dissolves the boundaries between audience, artist and staff. Stage and auditorium merge in a unique atmosphere of relaxation and comfort.
Experience acrobatics right next to your table and through the course of the evening, enjoy the soothing sounds of The Crystal Mirror ensemble.
The Crystal Mirror Artists*
*the below list of artists is merely a small extract of Shaksfin Entertainments' international portfolio of "Mirror Tent Artists". "Mirror Tent Artists" are a very special type of artists who are specialized in close-up and interactive dinner show entertainment performed on tiny stages amidst the show's guests.
Irina Galagan
Hula Hoop Artist

Irina swirls and twirls with grace and speed in pure elegance. This amazing artiste coaxes the hula-hoop around her hips to create the most inspiring possibilities.
Jenny Adler
Vocals and Aerial Contortionist

Jennifer is magical. Her unique, sexy, aerial acrobatic contortion performance is dramatized as she sings from the air. You will gasp for air.
Andreas Wessels
Juggler

Experience the paradoxical when Andreas jumps the rope whilst balancing six large balls in the air. You will question the laws of gravity and time and the power of the mind as he moves through flames.
Jojo Weiss
Comedian
Jojo is a one-man sound theatre. Experience and be entertained by the amazing sounds that he makes with his body! He presents the world's smallest trumpet using facial muscles and plays Mozart by squeezing his hands. Amazing.
The Skating Willers
Roller Skating

They spin in a high-energy performance that takes your breath away! Catch the Willers as they dance, twirl, flip and fly on skates, a performance that will have your heart pumping especially if you're sitting near the stage when they speed past... flying!
Tom Noddy
Bubble Magic

Bubbles inside of bubbles, smoke bubbles, caterpillar bubbles, love bubbles, yin yang bubbles and a bubble cube in another bubble! This is bubble magic like you've never seen before. In Toms hands, bubbles take on a life of their own ... You have to see it to believe it.
Roman & Slava
The Tap Dancing Twins

These identical twins are hilarious. Comedians and tap dancers rolled into one, they are in a class of their own. Trained at the renowned university of culture in Kiev, they are dressed in classic 1920's style and take audiences around the world in an unexpected, extremely skillful, precise, and fun tap dancing performance.
Ceasar Twins
The Contortion Twins

To explain the phenomenon of the Caesar Twins isn't easy. They are identical in many ways. They have perfection mastered to a tee. A perfect act, performed before royalty more than once... perfect bodies, precision artistry and movement, in the air and in water. Experience the Caesar Twins in their awe-inspiring performance - 2 bodies that blend as ONE.